Japan launches Venus probe and solar sail
Akatsuki probe, Ikaros sail and other satellites all ride on one rocket
An unmanned H-2A rocket sends Japan's Akatsuki probe toward Venus from the Tanegashima Space Center on Friday. The Ikaros solar sail prototype hitched a ride as well.
A powerful new Japanese spacecraft and experimental solar sail have blasted off together to start a six-month trek to explore Venus and cosmic parts beyond.
One mission is aimed at uncovering the
secrets of Venus
and its cloud-covered surface, while the other could become the first interplanetary solar sail to fly successfully in space. The Japan Aerospace Exploration Agency, or JAXA, is backing both spaceflights.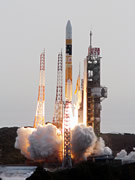 May 21, 2010 Updated
AKATSUKI successfully launched!!
The H-IIA Launch Vehicle No. 17 (H-IIA F17) with the Venus Climate Orbiter "AKATSUKI" onboard was launched at 6:58:22 a.m. on May 21 (Japan Standard Time) from the Tanegashima Space Center. The H-IIA F17 flew smoothly, and, at 27 minutes and 29 seconds after liftoff, the AKATSUKI was separated from the H-IIA.
We will update you with the latest information on the AKATSUKI on the special site.
(Photo: Mitsubishi Heavy Industries)
---
Launch H-IIA Akatsuki/Ikaros

A Solar Sail gathers sunlight as propulsion by means of a large membrane while a Solar "Power" Sail gets electricity from thin film solar cells on the membrane in addition to acceleration by solar radiation. What's more, if the ion-propulsion engines with high specific impulse are driven by such solar cells, it can become a "hybrid" engine that is combined with photon acceleration to realize fuel-effective and flexible missions.
IKAROS's mission
IKAROS's membrane
Membrane deployment
Future plans
World's first interplanetary solar sail spacecraft IKAROS, sail spreading CG image

Sources
Related